This book is almost sold out... only a handful of copies left!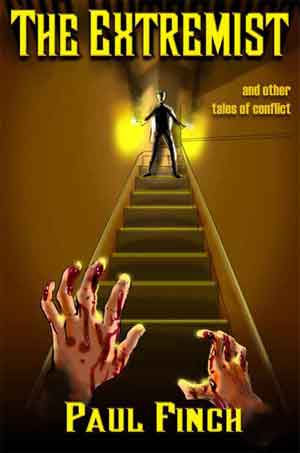 The Extremist and Other Tales of Conflict by Paul Finch
(0 9538598 2 7; 76pp; £4.99 pbk)
War. With five stories, four of which were previously published within the small press but hard to find, the critically acclaimed author of "Cape Warath" and BFS-award winning "After Shocks", along with numerous television and film scripts, creates horrific yet real tales from the jungle of Burma to a fascist militia among the streets of Manchester.
The collection also contains a lenghy introduction from the author.
cover illustration and design by Terry Cooper
"No matter how appalling the scenerio, these stories remain rooted in our recognisable human urges and universal needs. Finch respects his roots as well. His horrors are entirely grounded, and suffused with the unsettling breath of the real. He knows where you live."
Stephen Gallagher, author of Oktober and White Bizango
"... Finch is one of the very few horror writers who can effectively add fictional horror to war's loathsome nature... imaginative, distinctive stories and [a] powerful, vivid writing style. I urge anyone to read it: you won't be disappointed."
Mario Guslandi, Emerald City
"... a worthwhile collection and gives a glimpse of what Finch at his best is capable of."
Peter Tennant, The Third Alternative #40
"... this is an important piece of work... If war can have a dark underbelly (and God knows what you see is dark enough) then it is exposed in this book. Finch pulls no punches... [this collection] has given us some of the most incisive and deceptively subtle writing I have seen for some time."
Terry Gates-Grimwood, Whispers of Wickedness
"Overall this is a strong collection with a powerful theme... Recommended, and I will be hunting out more work by Paul Finch." Noel K Hannan, www.infinityplus.co.uk