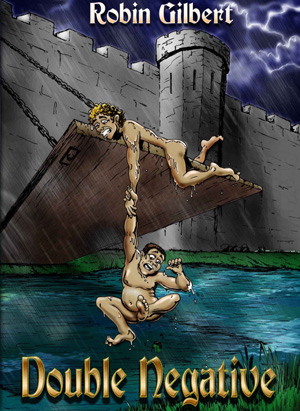 Double Negative by Robin Gilbert
(The First Book in the Serendipity Trilogy)
(0 9538598 4 3; 294pp; £7.99 pbk)
Bhark Lhoudly and Whindy the Brave arrive exhausted, penniless and naked... and things go rapidly downhill from there: they become prime suspects in the murder of f Lord Wigbig of Hops Castle, the barley beer capital of the Kingdom.
They also succumb, like all fifteen year-old boys before them, to the taste of alcohol and a tavern by the name of The Dog's Bollocks... a place beyond comprehension.
A debut novel that will be a must-read for all fans of Terry Pratchett, along with Monty Python and Blackadder.
cover illustration and design by Terry Cooper
"... the book is well written, [Gilbert] has a nice easy prose style, which bounces jauntily along... If you are stuck waiting for the next Terry Prachett book to come out you could do worse than reading Double Negative... I look forward to reading his next one."
Charles Packer, www.sci-fi-online.com
"...proved amusing and entertaining but it didn't change my life." Sue Davies, SFCrowsnest